This site contains affiliate links. Please read our Policies for information.
Jillian Michael's 30 Day Shred is an awesome workout that does wonders for the female body.  Long, lean, muscle building machine is what you will become! (Really, can you find ANYTHING wrong in that?)  I try to do the Shred 1-2 times per year to give my body a kick in the butt and after a fun summer of margaritas and a few more "off days" than I should have had, my butt deserves a kick.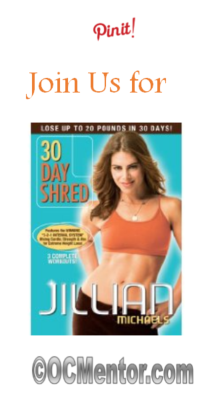 I do The 30 Day Shred 2-3 times per year. Join us to get RESULTS and see if this workout routine is a good fit for you and your lifestyle.
So I figure why not invite people into the madness with me? 🙂  Participants as of 8/4 include (please post a comment if you would like to join!): 
We start Monday August 9th and the workout routine will look like this:

August 9th – 14th:  Level 1August 15th – 20th: Level 2August 21st – 26th: Rotate between Level 1 and 2 according to preference and needsAugust 27th – September 1: Level 3
Sept 2 – Sept 7: Rotate between Levels 1-3 according to preference and needs
To do the Shred, you will need:
1.  A set of 3-5 pound hand weights
2.  An exercise mat or soft surface to exercise on
3.  The 30 Day Shred DVD
Let's motivate each other!  Post a comment here each day to let us know you Shredded along with the group.  Let's also post any questions, comments, concerns, pleas for help (that's a joke folks…), etc.  And remember, the key is that when you hurt on days 2 and 3, to KEEP doing it.  Simply modify it down.  You will feel better after doing it, I PROMISE!
If anyone else would like to join us, just post a comment with your first name, blog URL, or Twitter ID and I will update the original post!
You can find more information on The Shred and all things Jillian here.