This site contains affiliate links. Please read our Policies for information.
HTC One M8 was announced today during a live stream today in New York. It almost goes without saying that HTC had a lot to live up to with their new HTC One M8 smartphone. Last years model, the HTC One, has won award after award, most of them being in the category of smartphone of the year. This brings us to the question HTC was faced with this year…
We are here to walk you through the HTC One M8 and the improvements you can expect in the device to ultimately make a decision.
How could they make the best even better? "We simply create great products that speak for themselves and make your life better." – CEO Peter Chou. They answered that question and then some with the HTC One M8. We are here to walk you through the device and the impressive improvements and be sure to check out our photos of the HTC One M8 as well.
Design
The first thing you will notice, of any device, is the design. Design is one of the biggest key selling points as we all want to be proud of where we spent our money and simply own the best. HTC always had their consumers in mind when building the HTC One and again with the HTC One M8.
The HTC One M8 is a device for the consumer who wants to experience the best. The HTC One M8 has more curves, and rounded edges, to make the device fit comfortably in your hand. Besides that, they have brought the metal backing all the way up to the screen itself providing a sturdy, safe, and comfortable feel to a luxurious device – the HTC One M8.
Ease of use has also been improved on the M8 as users can bypass unlock with a gesture, quick launch the camera, and bypass power completely to check the time on their phone with a simple double tap on the screen.  Common everyday tasks are that much easier with the new One M8.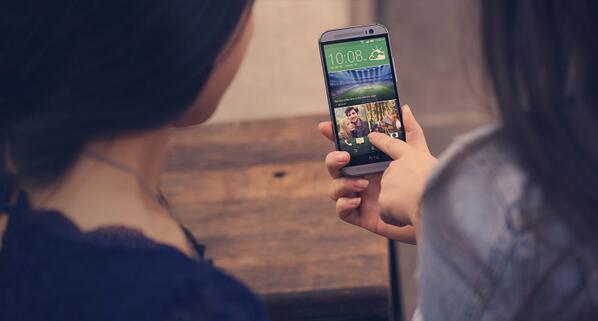 Sense
Blinkfeed is another feature HTC brought together with the HTC One, but now they have improved it in Sense 6, the company's UI. Lovingly called "HTC's sixth Sense" by HTC execs. The sixth sense of the HTC One M8 is a welcomed improvement in a world where your smartphone is more of an assistant rather than a device. Sense 6.0 can be personalized with colors and themes to create your own unique experience and Blinkfeed has been updated to cater to what you want, instead of pre-selected categories.
Let's say you like a certain item of clothing, or, as given during the announcement, a shoe. Simply enter the name of that shoe into a setting in your Blinkfeed and any news surrounding that shoe will be at your fingertips at all times. Along with the usual things like news and social media, Blinkfeed is all you need to stay up to date on everything YOU want. FitBit enthusiasts will also enjoy that FitBit is built right in with the M8 so users can have a personal fitness tracker with a lock screen widget and BlinkFeed integration.
Battery
The HTC One and HTC One Max have stellar battery life but HTC doesn't settle so to ensure the battery is phenomenal they made it larger with less consumption resulting in a 40% longer battery life than before.  With a 2600 mAH battery, the HTC One M8 makes recharging during the day a non-issue.
As we depend on our phones more and more, battery life is critical so hearing the HTC One M8 announcement today that the battery can last up to two full weeks in standby mode is quite incredible.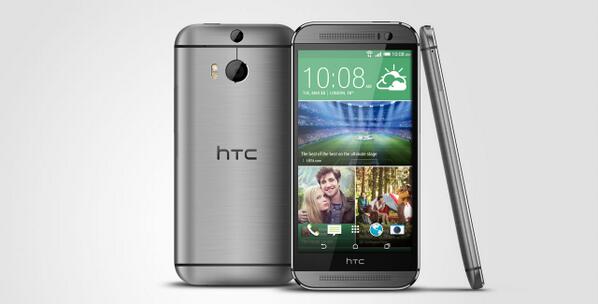 Camera
With their Ultrapixel technology, HTC has taken the camera experience to the next level on the HTC One M8 resulting in higher quality photos. The M8 features a redesigned UI that is more impressive than ever allowing users to manually configure camera settings and save custom camera modes.  Additionally, it allows for photography delights such as focusing the image after the shot is taken or changing the effect of just the background of an image. With a focus time of less than 300 milliseconds, dual cameras with zero shutter lag, and smile and blink detection, users will be able to customize and add creativity to their photos with complete ease. 
We will be back with a full article on the HTC One M8's camera but we predict many M8 owners will truly enjoy being able to capture the bokeh effect in their photos taken on the HTC One M8.  With the hardware depth sensor allowing the camera to know what is closer and further away, users can create the blurring effect they could previously really only achieve through high-end cameras.
No fancy apps needed.  Just your M8 and you.
Sound
Don't get me wrong, the audio quality from the dual front-facing speakers on the original One was great, but the HTC One M8 boasts richer, fuller audio that is said to be 25% louder. Clear powerful BoomSound comes from speaker chambers that were redesigned that offers better sonic depth. 25% more powerful. Plain and simple.
Jason MacKenzie announced today that the HTC One M8 will be available before the end of April in the single largest product rollout in HTC history.  Broad in-store availability in US and Canada is expected within the first few weeks of April and most will have them in store by April 10th.  As of 1 pm EST today, you could order the M8 online through your US and Canada based carriers or also get them at participating stores.
HTC brought luxury, ease of use, design, comfort, safety, all the things you could possibly want in a smartphone with their HTC One. Now with the HTC One M8, they have taken all of those things and made them better, in every way possible. 
This article is collaboratively written by Amy Barseghian and Ray Greer.