This site contains affiliate links. Please read our Policies for information.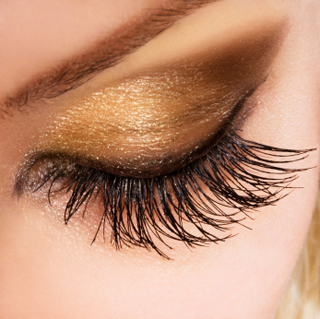 Everywhere your daughter looks, she is bombarded with images of scantily-clad, overly-painted women. These are what she sees as beautiful, and combating those unrealistic images is one of your challenges as a parent. Talking to girls about beauty can be a sensitive topic; the best way to help your daughter understand true beauty is to have a conversation with her early on about makeup and beauty.
Consider Age
The first thing to decide is what age you will allow makeup. While this will be a personal decision, setting the ground rules early is important. Letting your little girl play dress up and use pretend makeup at home is one thing, but letting her wear it out and about should be limited until she is at an appropriate age.
What is an appropriate age? You might consider middle school to be a good starting point. While you don't want her to go wild with the makeup at 12 or 13, you can begin allowing a few items when she enters the middle grades.
The Best Types to Start With
As she enters the world of makeup, teach her the various types and what they do for her appearance. For example, mascara can help draw attention to the eyes and make them look bigger, while lip gloss will brighten the lips. She can use some eye shadow in a subtle hue to add glimmer to her eyes. Fragrances, when used in moderation, can make her feel beautiful with just a hint of sweetness at a time when hormones can make body odors a problem.
For most girls, mascara, perfume and lip gloss are sufficient starters. No matter what type she uses, she should be taught that a little goes a long way. A touch of lip gloss is pretty, but painting the lips with a dark red lip color draws the wrong kind of attention.
Don't Forget Modesty
When it comes to makeup, girls need to learn a bit of modesty. Teach her what a "day" and "night" look mean, and show her how to apply each. This will give her good skills for when she is older. Then, set the boundaries for what she is allowed to use in her early years of wearing makeup. Remember, the goal is to keep the look natural while enhancing her features slightly. True beauty does not come from a painted face, but rather from the features she already has combined with a beautiful spirit.
How Often Should She Wear It?
Your goal should be for your daughter to feel beautiful even without makeup, because she is. So, teach her that makeup is fun, but it doesn't have to be worn every time she walks out of the house.
This is challenging if you are putting on makeup before you go anywhere. Be brave enough to go out without some makeup from time to time, so you can set a good example. Similarly, as you are teaching her about modesty and moderation, be sure you practice the same in your own makeup. Getting a little glam for special occasions is fun, but she should see you using moderation in your own makeup application.
Makeup is a fun part of growing up for a young girl. As her mom, you can set the right example by the way you wear makeup and the way you talk to her about it. This will solidify in her mind that she is beautiful, while also teaching her about the appropriate way to enhance that beauty with a little makeup.
This guest post is from Holly Watson, a stay-at-home mom and former financial advisor.  She blogs on behalf of Sears and other brands that help motivate her family to maintain a clean, happy home.