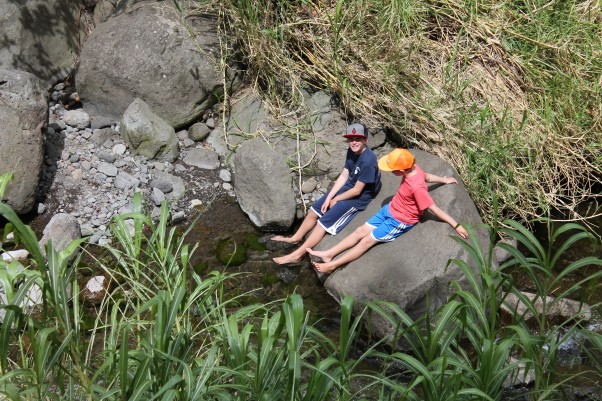 This site contains affiliate links. Please read our Policies for information.
How do you create more peace in this world of constant motion?  One simple solution could be to become more mindful in your daily life.
What is mindfulness?
According to Jon Kabat-Zinn, a leader in stress reduction and mindfulness research,  "mindfulness means paying attention in a particular way; on purpose, in the present moment, and non judgmentally."  Simply stated mindfulness means being here and now and in peace.   These three simple steps will help you live a more balanced and peaceful family life.  A life of peace, health and family balance.   
Step 1: Pay attention to your breath.  Breathing seems obvious, but taking conscious time to notice it, is the cornerstone to a peaceful life.  When you take time to notice your breath, it allows a sacred time to find pause and reflection.  In terms of a starting point, I suggest starting with 5 minutes a day and then increasing the time, as you can sit for a greater length.  As you get yourself ready, find a place in your home with little or no distractions.  Then set a timer for 5 minutes and just focus on breathing in slowly, pausing and then breathing out slowly.  If during this time, a thought comes up, just notice it and put it to the side for a later time.  This takes some discipline, but that's all part of the process. A dear teacher once suggested approaching breathing like you were greeting a friend.  With every breath in, offer yourself love, comfort and replenishment and with every out breath, receive those gifts. I know for me, as a working Mom with two boys in sports, it's difficult to take time for myself, but even 5 minutes can make a significant difference in my day.
Step 2: Notice what you're eating.  In this busy world, most people are moving about as fast as they can and eating is no different.  People are "eating" their meals during conference calls, kids are rushing though their lunches at school and most people have no idea what they just ate. What I am suggesting is to take time to be conscious of what you are eating (and doing). A wonderful book that offers helpful insights is "Savor: Mindful Eating, Mindful Life" written by Thich Nhat Hanh and Dr. Lilian Cheung.  In this book they offer simple, yet powerful ways to become more aware of your eating habits.  For example, when you order your lunch, think about what your body might need and when you sit down to eat, try to minimize the distractions. And as you eat, eat your food slowly, so that you can enjoy and appreciate what you are eating.  Taking time to appreciate and enjoy what you are eating can be a great second step in finding more peace in your life.
Step 3: Unplug. That means no phone, no television, no agenda for a certain amount of time (preferably 4 hours or more).  This may sound simple at first, but you'd be surprised at how challenging this actually is for most people.  And although it may be difficult at first, unplugging is exactly what our bodies, minds and spirits need to renew and reboot.  An inspired resource is a book written by Rachel Macy Stafford titled "Hands  Free Mama: A Guide to Putting Down the Phone, Burning the To-Do List, and Letting Go of Perfection to Grasp What Really Matters!"  I discovered her book and blog a couple months ago and was so encouraged by her journey.  In this book, she provides simple, non-intimidating, and motivating methods to let go of distraction and connect with your loved ones. When you unplug you are offering yourself and those you love the most special part of yourself.
How do you find peace and happiness in your daily life?
Sandee Bandettini, MS, MFT #38003 is a licensed Marriage and Family Therapist that offers resources, support and classes to nonprofits and schools on mindful ways to live healthy and happy lives. She also volunteers her time to various nonprofits whose focus and attention are on the health and wellbeing of children.  For additional information, please see her website: www.SandeeBandettini.vpweb.com.