This site contains affiliate links. Please read our Policies for information.
A router is the pathway between the internet and your home network and also ensures all devices can talk  to each other.  When we moved into our new home,
wesuddenly realized we had more walls than ever before, which meant that we had more WiFi dead zones than ever as well.  There is nothing worse than talking with someone on Facetime and watching them glitch as your connection starts to drop.  Before you can scramble back to safety, the call is dropped.
We tried a few different routers in our house but struggled to get rid of all of the dead zones while maintaining a strong and consistent connection.
Netgear gave us the opportunity to test their powerful Nighthawk X4 AC2350 Smart WiFi Router which we paired with the Netgear AC750 WiFi Range Extender. What we now have is amazingly strong and consistent WiFi coverage throughout our entire house and outside.  Finally!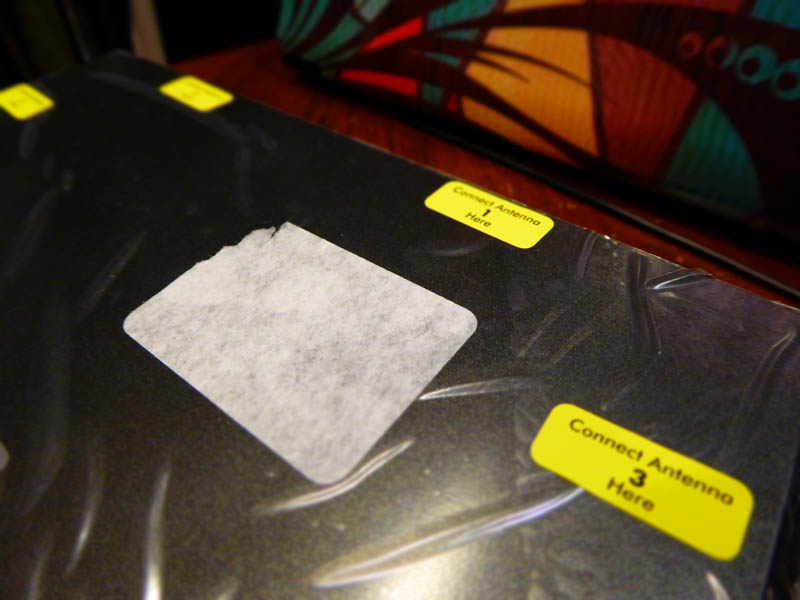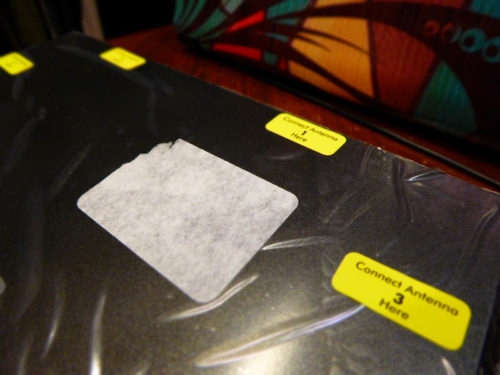 Setup
Setting up our Netgear Nighthawk Router was probably one of the easiest router setups we have done in a long time.  With the Netgear genie app, available on both Android and iOS, the setup process is smooth.  Users who are used to the traditional admin interface will appreciate the modern and updated interface of the genie and the easy to read port labels to help make sure everything is plugged i the proper spot.
The NETGEAR genie app is your personal control center to monitor your home network and make any repairs.  If you are an iHousehold, the app also makes any printer AirPrint compatible, which is a nice added bonus.  You can also reboot your router right from the genie app (LOVE!), share files within your home, play media files in your home network, and access parental controls as well.
Total setup time = around thirty minutes from start to finish.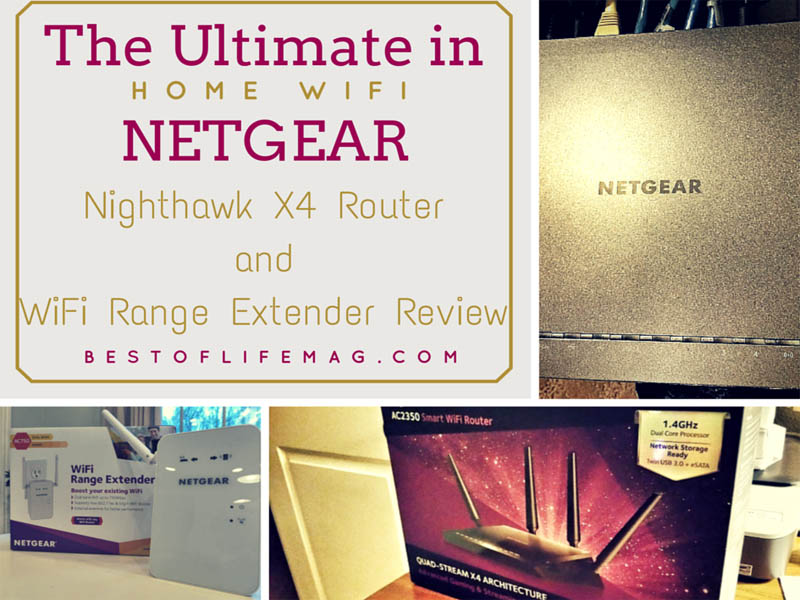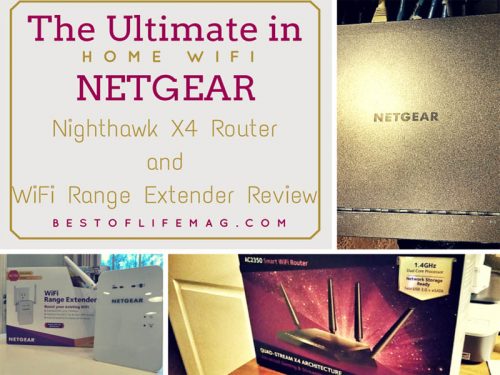 Specs and Details
The Nighthawk X4 Router has a 1.4 GHz dual core processor and comes with four detachable antennas.  The size is compact making it easy for us to fit in smaller spaces and measures 11.22″ x 7.26″ x 1.97″ with a weight just over a pound and a half. Two USB 3.0 ports are also easily accessible on the exterior edges of the Nighthawk X4 router as is one eSATA port. The 2 USB 3 ports for hooking up external drives are a nice touch and having numerous ports allows for expanded use options.
Your home network is safe and secure with the Nighthawk X4 which allows you to have a separate guest access if you want in addition to WPA/WPA2 protected access.  It provides double firewall protection and DoS attack prevention to keep out unwanted visitors.
I like the option to be able to turn off the LED lights so our closet doesn't look like a lit up Christmas Tree every night.
All in all – everything is solidly built on the NETGEAR Nighthawk X4 router and the specs seem on target if not a bit higher than one would expect for the $200 price point.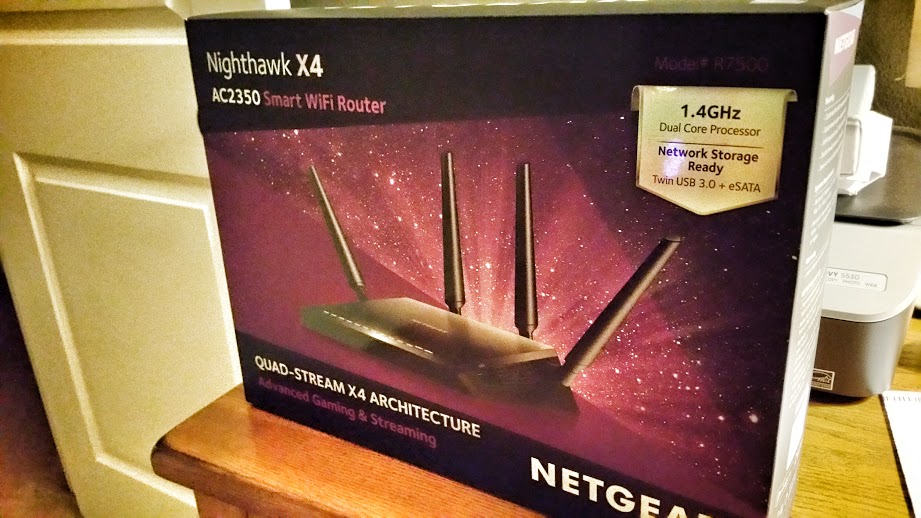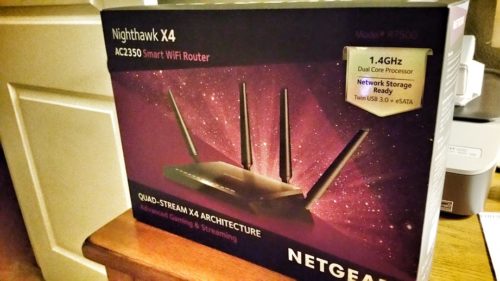 Features
The NETGEAR Nighthawk X4 router is loaded with features and benefits for the connected household!
Dynamic QoS prioritizes Internet traffic for lag free gaming and seamless streaming
Gamers will appreciate the super fast WiFi speed up to 2.33 Gbps
Improved WiFi range for enhanced performance
Mobile users get the benefit of quad-stream x4 architecture for increased speeds
AirPrinting for easy mobile users
Turbo Transfer allows for sharing of files between all devices – both Mac and PC
Easy access to media on various devices
USB and eSATA hard drives and access via WiFi
Free backup software for Windows
Easy remote access via a free custom URL
2.33 Gbps WiFi speed allows for streaming of multiple HD videos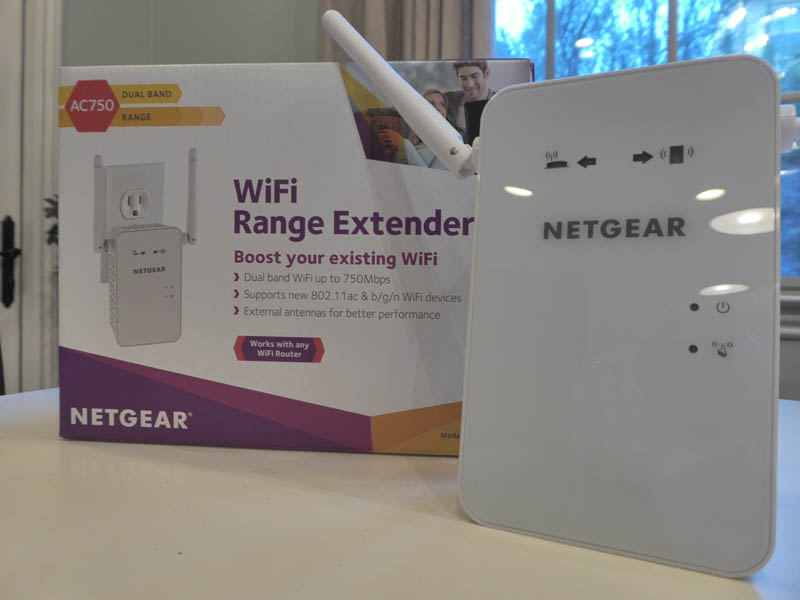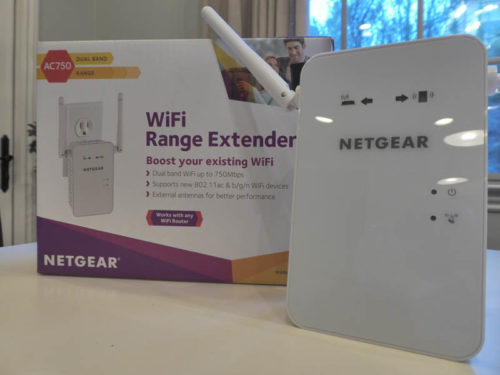 NETGEAR WiFi Range Extender
The WiFi Range Extender works with your router to boost the existing signal to deliver greater speed and maintain connections in those hard to reach areas.  This was key for us in our home because of our router location and all of the walls on the main floor. Simply plug the WiFi extender into an outlet in the area you want covered and you are good to go.
The NETGEAR WiFi Extender can function in two ways: First as a signal booster to existing WiFi coverage. Second – as a separate access point.  If you choose to
do the second, your device or computer will simply have this access point to connect to when you are in that hard to reach area.  A feature we certainly like about this WiFi extender is that it can easily be moved because of the AC plug design. Thus if you are having a party out back and want to ensure strong coverage for streaming an outdoor movie, you can move the extender to achieve the goal.  You can also connect a wired device straight to it for added options.
The NETGEAR WiFi Range Extender is priced at $79.99 on Amazon and works with the NETGEAR WiFi Analytics App which is rated well and available on Android or iOS.
We have a large home and wanted strong connectivity everywhere in the house and we finally have it with the Netgear Nighthawk X4 & WiFi Range Extender.