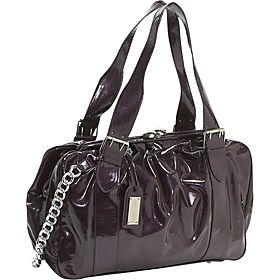 This site contains affiliate links. Please read our Policies for information.
Purple is one of
my favorite colors
.  And on bags…wow!  I consider it a neutral.  Having a good purple bag is like having a tan bag…it matches everything!The great news is that you can win a FREE Timi and Leslie Lana Diaper Bag in Eggplant from
Little Dudes and Divas
. It retails at $200 so a truly lovely bag.  And the fun part is that this contest will be a great way for you to help one another by posting your own videos about the bags in Little Dudes and Divas videos!
Details about the Timi and Leslie Lana:
The Lana is an A-Frame Barrel Satchel that measures 12"H x 18"W x 5"D.
Every bag includes the essentials: Removable shoulder and stroller straps, water-resistant lining, insulated bottle tote, changing pad, matching mommy wristlet, easy-access key fob, many elasticized and zipper pockets and a protective duster for when the bag is not in use.
Every bag features a removable and adjustable shoulder strap and two stroller straps.
Timi & Leslie's quality hardware comes in antique gold, gold and silver finishes depending on the style.
Timi & Leslie's logo lining is water-resistant and easy-to-clean nylon.
Each bag comes with an insulated bottle tote and will keep things cool for 2 to 4 hours. Keep it in or take it out. 


The pad is made of a water-resistant nylon in the Timi & Leslie logo print.
Depending on the style, the bags all have either a zipper or magnetic closure to keep your goodies inside.
How to enter:
1.  Respond to a Little Dudes and Divas video with a video response:
Go to any of Little Dudes and Divas YouTube videos, click in the "comments" box. Then on the right side you will have the option to respond with a video! You can respond to all our videos up to 3 responses per video.  Each video response will count as an entry!  LEAVE A COMMENT BACK HERE WITH A LINK TO THE VIDEO you responded to. 
(Example:  If you have the Ju Ju Be Behave, you can do 3 separate videos showing the different ways you pack it for different outings.)
Tips:  Make sure the videos are detailed and helpful. Try remembering the questions you had about diaper bags before you found your favorite bag. (or any of the items for that matter)


2.  Become a follower of this blog (right hand column below "Subscribe and Follow").   Leave a comment here letting me know you did this. 
3.  Subscribe to MommyMentor1's You Tube channel:  Post a comment back here letting me know you did this.
.__________________________________
Thank you to Little Dudes and Divas for sponsoring this giveaway!  It will end on on Wednesday, February 23rd at 10:00 a.m. Arizona time. Please leave a method for contacting you in your comments.  
Good luck to everyone! 🙂
(Don't forget you can save 15% on orders of $50 or more (sorry no Ju-Ju-Be) with this link/coupon code!)
Update!  Comment #4 is the winner!  Congratulations to Dana A on winning this awesome bag! Thank you to everyone for entering and to Little Dudes and Divas for sponsoring this one! 🙂
I never heard back from the winner so congrats to MANDORAMA!! 🙂  I will email you!
Have a great weekend!
True Random Number Generator  4Powered by 
RANDOM.ORG