This site contains affiliate links. Please read our Policies for information.
Facebook is officially launching their Facebook Privacy Checkup tomorrow.  At this point, Facebook will be inviting people to use this function but you can also access your Privacy Checkup through your privacy shortcuts.
Facebook is launching their Facebook Privacy Checkup tomorrow. I met with them today and here's what you need to know to be ready.
I spent the morning at Facebook Headquarters learning all about the new Facebook Privacy Checkup security feature – here's what you need to know.
You will be prompted to do your Privacy Checkup when you use Facebook on desktop.
When you are prompted you will have two choices; you can choose "No Thanks" if the timing isn't right and then revisit at your leisure through your privacy shortcuts.  Or you can choose to dive in and take care of it right away.
You will then be prompted to review three settings:

First Privacy Checkup Review: Verify who you are sharing your posts with.  There are various options here so please review carefully and remember this is a standard setting for all photos and content shared to your profile.  Also, you can choose to share with lists but not groups.
Second Privacy Checkup Review: Review your connected apps.  Many of us have been on Facebook for years and considering how many apps ask you to login or share via Facebook, this is an important list to clean up on an ongoing basis.
Third Privacy Checkup Review: Four key pieces of information will be chosen based on what you have completed in your "About" section.   Your phone numbers, email addresses, your birthday, location and who can see those pieces of information.

You will then be able to click on "About" so you can review and update more information if you would like.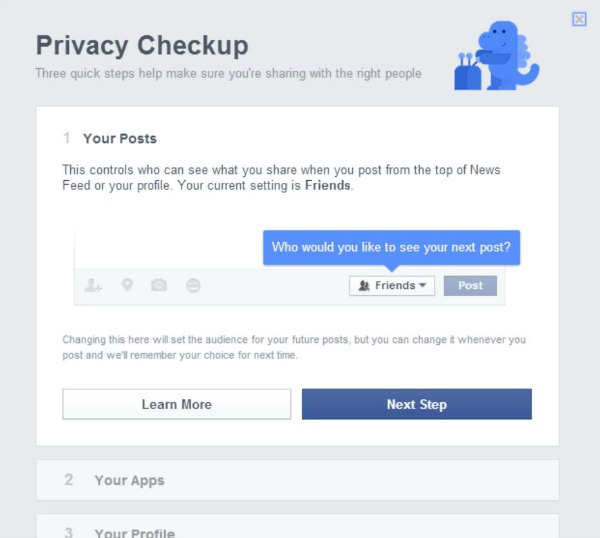 I did ask if the Privacy Checkup will be auto prompted at regular intervals and that may be an option depending on what people think about it.  I personally think this is a positive move for Facebook; let's face it – we log in daily and get so distracted that it is too easy to neglect this important security step.
If you have any questions about the Facebook Privacy Checkup, leave a comment below!