This site contains affiliate links. Please read our Policies for information.
Trying to prepare a delicious, nutritious meal that's also inexpensive meal can be challenging. Many people often equate healthy with expensive or bland, but that doesn't have to be the case. Easy casserole recipes are an option that can be tasty, healthy, and economical. They're also time-efficient and won't take your entire night to make.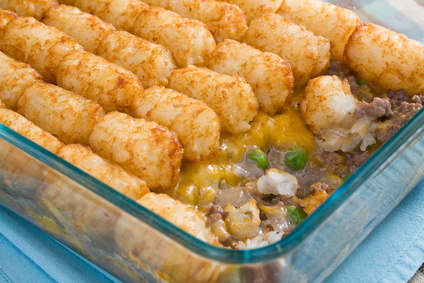 There are many options for casseroles that save time and money. They are also an excellent way to sneak more vegetables into your meal. 
Here are some tips for making easy casserole recipes:
Try throwing together a bunch of leftovers or things you have on-hand in your pantry.
Save more money by serving casseroles as "one dish meals". You don't need any extra dishes if you have a good variety of ingredients in your casserole.
Canned or frozen vegetables can be a cheap, easy way to round out your casserole dishes.
A simple formula to follow for making your casseroles is:
1 cup main ingredient (e.g. tuna, chicken, or tofu)
1 cup second ingredient (e.g. vegetable, eggs, or another main ingredient)
1-2 cups starchy ingredient (e.g. rice, potatoes, or noodles)
1 1/2 cups binder (e.g. sour cream, mayonnaise, tomato sauce, etc.)
1/2 cup of "goodie" (e.g. nuts, cheese, olives, etc.) Seasonings (e.g. spices, onions, peppers, garlic, etc.)
Toppings (e.g. Ramen noodles, chips, croutons, cheese, etc)
Casseroles are a warm, tasty way to feed a large number of people on a small budget. The best part is they're extremely simple to make. All you need to do is throw together the ingredients, put the dish in the oven, and voila, you're done!
So the next time you're home from work and looking for a budget-friendly meal, put an easy casserole recipe in the oven and take some time to unwind while dinner cooks itself.