This site contains affiliate links. Please read our Policies for information.
Disney's "Alexander and the Terrible, Horrible, No Good, Very Bad Day" opens on Friday and chronicles the events of 11-year-old Alexander as he goes through the most terrible and horrible day of his life. When starting his day with gum stuck in his hair is followed by one crazy bad event after another, Alexandar feels dismissed by his family as he searches for some sympathy.
The cast of Alexander and the Terrible, Horrible, No Good, Very Bad Day talked with us about the family focus of the movie that everyone will appreciate.
Throughout this hilarious movie that is based on the 1972 children's classic book by Judith Viorst, Alexander realizes that he is not alone and that everyone has bad days.  And as with most everything in life, what matters is how you handle them.
You know how those go, right?  We all have those days where the little things add up to feel larger than life and make for a rather no good very bad day.  "Alexander and the Terrible, Horrible, No Good, Very Bad Day" brings that day to life in a way that everyone in the family can relate to including the cast of the movie itself.  They chatted about family focus of the movie with the press last month.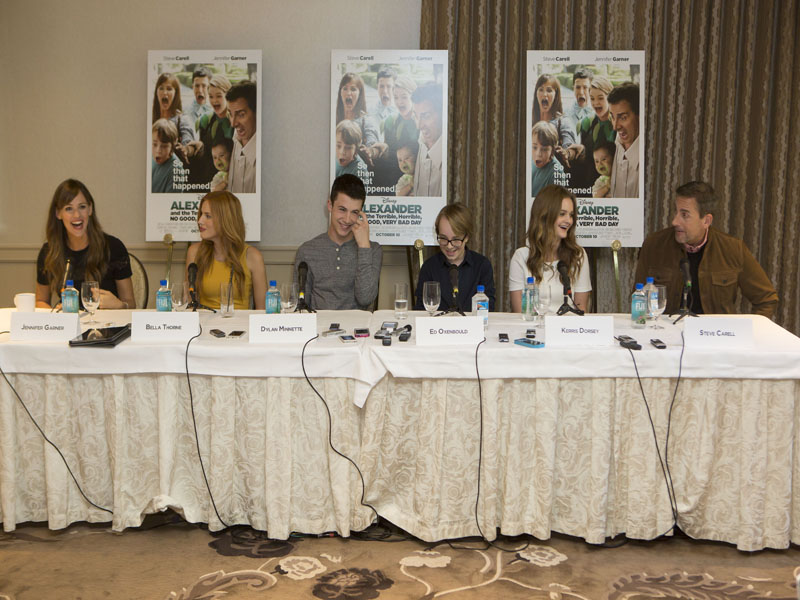 "I was inspired by the films John Hughes made that the whole family can enjoy together," says director Miguel Arteta.  Arteta was looking for one child who at the age of 12 just wanted others to be happy and he knew he found gold in Ed Oxenbould who plays Alexander.  Oxenbould has a generosity of heart that shines throughout this film and helped him capture the actors falling in love with each other just as families do in real life.  "Alexander and the Terrible, Horrible, No Good, Very Bad Day" is about appreciating family and giving each other the freedom to be themselves, even on the worst days.
One of my favorite actresses, Jennifer Garner, was also at the press conference to share her insights into the film. Garner plays Alexander's mom in the movie and loves the movie and the book is based upon because it teaches you  that it is totally OK to have terrible, horrible, no good, very bad days.
"I don't think I've ever played anything closer to my real life. Not that I have days as bad as this, but just days with the chaos of having a bunch of kids in the house—when there's a kid peeing on the floor, and the dog is throwing up and somebody's about to step in it, and you're trying to get dinner on the table. I can definitely relate to the idea of trying to do too much in a day."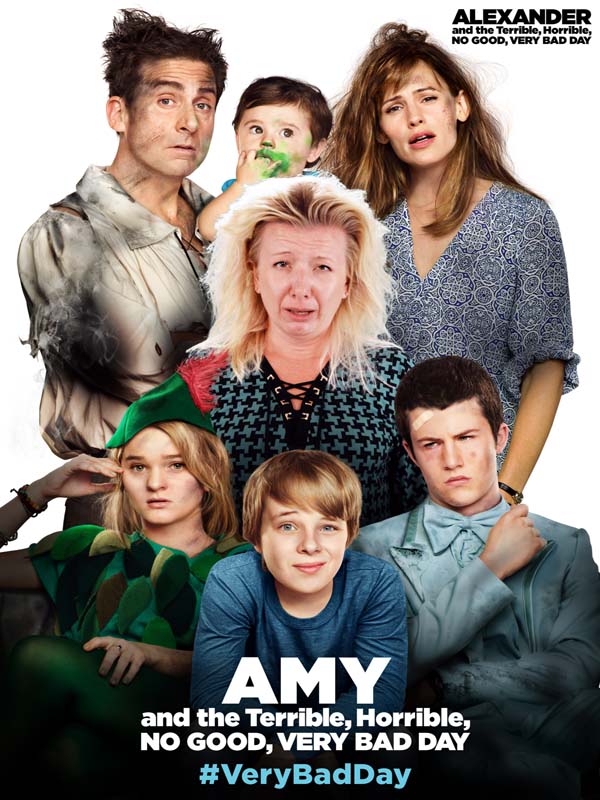 So can I. 🙂
And so can Steve Carell who plays Alexander's dad in the movie.  As a father, the storyline was very familiar and one that he could easily identify with.   I found inspiration as a mom when listening to Steve pass on his own parenting advice as it relates to bad days. He and his wife work hard, though not always perfectly, to let their children have bad days and not hover around them to make it all better.  Life is full of bad days and we all have to learn to sort through them so we can become stronger; it is solid advice as my husband and I head into the middle school years filled with hormones.
"Things tend to not go the way that you think they'll go. But there's always a contingency plan. There's always a backup. Things go wrong in life and I think that's part of the charm of this movie: Everyone experiences those days. It's all about how you struggle through and keep your dignity and your sense of family and fun and the kind of love that is pervasive between the characters in this film."
"Alexander and the Terrible, Horrible, No Good, Very Bad Day" embodies the real-life family drama of "Sixteen Candles" and "Ferris Bueller's Day Off".  Parents and children alike will enjoy that they can see bits and pieces of their own lives in the characters of this film.  When they find themselves having their own bad day, they may laugh a little more as they think back to how very normal very terrible days actually are.
"Alexander and the Terrible, Horrible, No Good, Very Bad Day" opens in theaters nationwide on October 10th, 2014 and is rated PG.  My full review of the movie will be up on Friday so be sure to check back then!