This site contains affiliate links. Please read our Policies for information.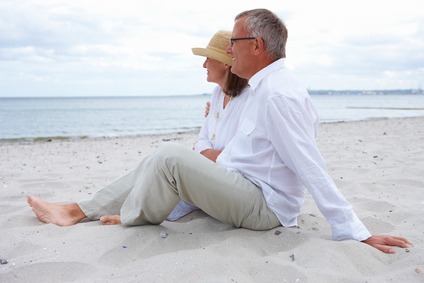 There are many benefits of marriage and to keep your marriage healthy and happy, remember: it requires daily work and it's okay if some days are harder than others. Marriages need nurturing, time and energy. Here are five ways to nurture it and make your marriage last:
Don't Skimp on Date Night
Date nights are crucial for a lasting marriage and remind you of why you married and the benefits of marriage in your life. Statistics show that couples who spend time together at least once a week are, at least, 3.5 times more satisfied with their communication sex and commitment to each other, the National Marriage Project reported. Be sure not to stick to the same old dinner and a movie weekly: switch it up — keep date nights fun and something to look forward to. Instead, do a game night or visit your local zoo or aquarium. For some romance, venture to your backyard and have a romantic picnic with candles, a warm blanket and desserts. After the food, lay back and stargaze together.
Don't Let the Romance Fizzle
Sex is essential in any great relationship. It's more than just physical; it's crucial for the health of your marriage and for your emotional connection to one another. Ed Young and his wife Lisa have been married for over 30 years and are still going strong. He gives credit to their open communication and their shared faith and values. Pastor Young recently published a book entitled, "Sexperiment: 7 Days to Lasting Intimacy with Your Spouse" and he and his wife spent 24 hours in bed on the roof of his Dallas church to discuss the new book. This "24 hour bed-in" had Ed and Lisa Young talking to radio and television hosts about challenging married couples to have sex for seven days.
Open Communication
"Communication either makes or breaks most relationships," according to PsychCentral.com. There are things you can do to improve your communication:
Stop and take time to think: Put your point of view aside and listen.
Listen: Earnestly reflect, or rephrase what your spouse has said, to make sure you understand what they are saying.
Be open and honest: Talk about things you've never talked about with anyone else. Open yourself for the possibility of hurt and disappointment. It will open the relationship to its fullest potential.
Watch nonverbal queues: Make and maintain eye contact, sit next to your partner when you're talking to them and keep a neutral body stance. Watch the way they're acting to see what they're really saying.
Here and now: Don't veer when having discussions. Keep the conversation on path.
Minimize emotion: Stay rationally to be able to be realistic about life-changing discussions, such as having children or getting married.
Cede an argument: Sometimes you have to cede an argument, even if you know you're right.
Humor: Lighten everyday frustrations with your partner.
Talking is not the only form of communication: Actions, Facebook, Twitter, email and texting give you more opportunities to communicate and lighten your partner's day and mood.
Don't Take Your Spouse for Granted
You should live every day like it's your last — never take your spouse for granted. EVER. Even when you two are in a heated argument or your hubby sleeps on the couch because he was in the dog house. Take the time every day to say something you appreciate about your partner and how grateful you are to have one another.
Find a Shared Dream, Achieve Success Together
It's far too easy for the day-to-day small stuff to surface and take over: "What's for dinner tonight?" "Did you pay the bills?" "When is trash day?" "Don't forget to pick up the kids after school today." Don't lose sight of the dreams that you both share and the steps you need to take to achieve those dreams together.
Successful couples have a shared vision that they can reach with help from one another. Maximize the benefits or marriage to help make that vision a reality.