This site contains affiliate links. Please read our Policies for information.
Strawberries are my favorite fruit which makes this dessert recipe a favorite! The strawberries are sweet and combine with Cool Whip and cream cheese to make a completely delish dessert! Plus, this dessert is easy and prepped within 15 minutes so perfect for those last minute entertaining and social events that pop up.
Strawberries take on a whole new meaning in this
Super Easy Strawberry Pretzel Dessert Recipe!

To make this delicious Strawberry Pretzel Dessert, you will need the following ingredients:
3 cups small pretzels
1/2 cup melted butter
3/4 cup sugar
1 8oz package cream cheese
1 cup powdered sugar
1 large container Cool Whip
2 cans strawberry pie filling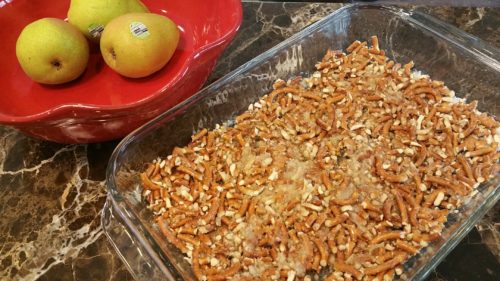 The crust is one of my favorite parts of this dessert as it combines sweet and salty in the perfect way. Crush the pretzels into small pieces (not into a fine dust) and mix with the melted butter and sugar.
I prefer a thick crust so spread the entire mixture on the bottom of a 9×13 pan. You can also use half for the crust and save the rest for the top. When I use the entire mixture for the crust, I make a small extra batch to spread on top or just top with crushed pretzels.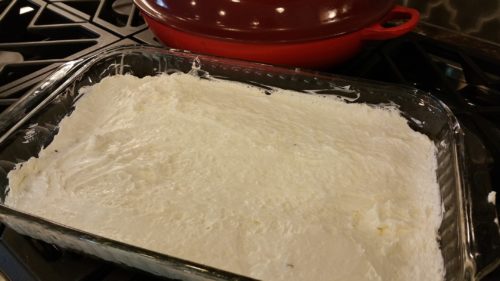 Mix the cream cheese and powdered sugar together and then add the Cool Whip to the mixture. Spread this over the crust.
Then spread the pie filling over the top of this mixture and gently ensure the entire surface is covered evenly.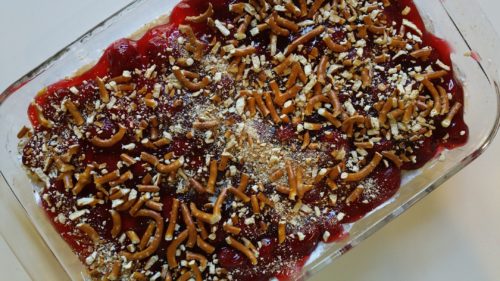 Add the remaining pretzel crumbs over the top and place in the freezer. Take out one hour before serving.
This is definitely an easy recipe which is also a perfect dessert 4th of July recipe!  Garnish with blueberries and you have the perfect mix of red, white, and blue.
Save