This site contains affiliate links. Please read our Policies for information.
With the holidays approaching, I am already planning our travels and meals for when friends and family will be staying with us.  Finding amazing meals that I know everyone will love is key, but so is saving time.  By saving time preparing and making meals, I can spend more time with everyone and savor every moment of our time together making memories.  With this holiday hack you can make two recipes with one ingredient saving time AND money! Plus, I purchased the Gallo Salami at Sam's Club saving even more money. Use this holiday hack to make Hot Italian Cheese Balls for dinner and a breakfast frittata the following morning.

This Hot Italian Cheese Balls recipe will be requested time and time again by everyone!
The spices and cheese combine for perfectly to add some kick as the cheese oozes out of the warm dough.  One of the things I love about this recipe is that it can be used as an appetizer or a meal on its own when paired with a salad.  AND everyone loves them!  purchasing Tyson products in bulk at Sam's.

Hot Italian Cheese Balls Ingredients
8 round slices of Gallo Salami
1 (16 ounce) tube Buttermilk Biscuit dough
6 ounces mozzarella
4 ounces julienne sliced sun dried tomatoes in olive oil
4 ounces artichokes marinated in olive oil
1/4 cup Parmesan cheese
1/4 cup Italian seasoning, dried
1 1/2 tbsp olive oil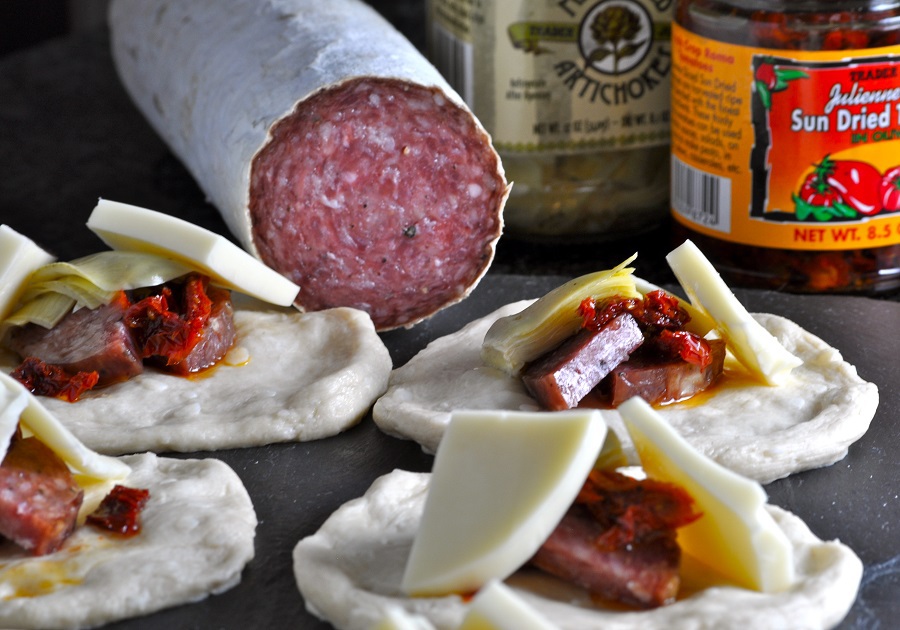 Instructions for Hot Italian Cheese Balls
1. Preheat oven to 350 degrees.
2. Open biscuit dough and lay out 8 biscuits.
3. Add sliced salami onto each biscuit. (I divided each round slice into quarters and put 2 on each biscuit)
4. Add 2 pieces of julienne sliced sundried tomatoes, a piece of artichoke and 2 pieces of mozzarella to each biscuit.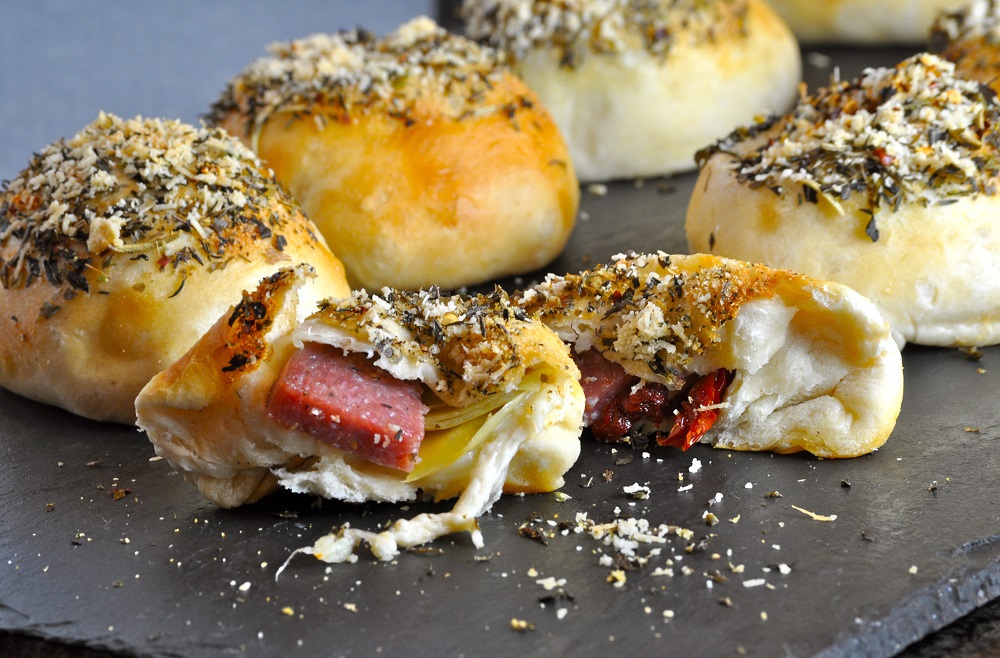 5. Wrap the ends around to create a ball.
6. Dip the ball into olive oil and then roll the top into the Italian seasoning.
7. Sprinkle Parmesan cheese on top and place on the baking sheet with the seasoned side up.
8. Bake in oven for 16-18 minutes until golden brown.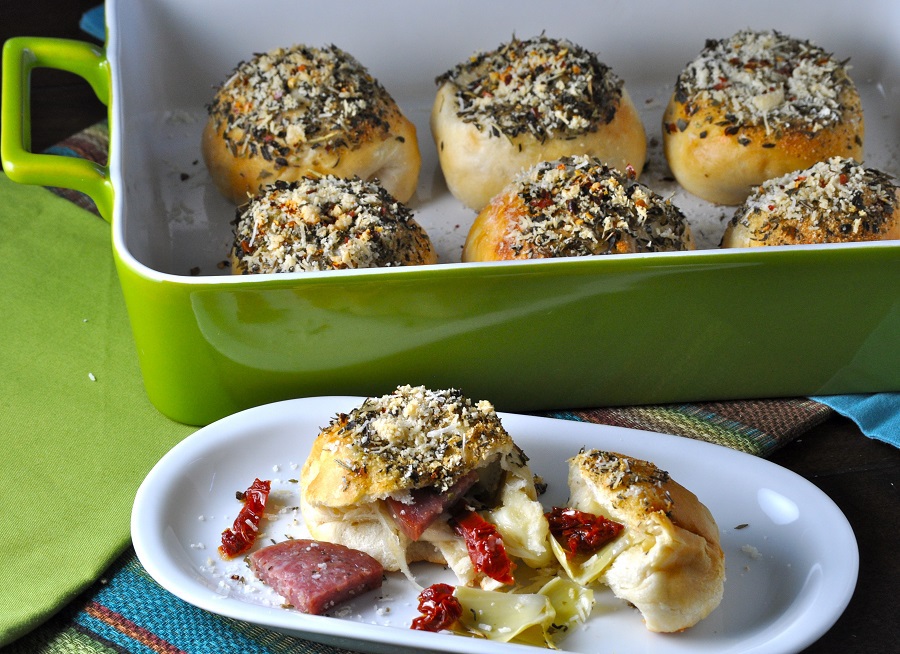 Serve warm and enjoy!
As you clean up your ingredients take your leftover Gallo Salami and slice up a little more into cubes so it is ready for the breakfast frittata recipe you will make the following morning.

Breakfast Frittata Recipe (Made from LEFTOVERS!)
Using your leftover salami from your Hot Italian Cheese Balls you can make a breakfast recipe for guests the next morning with little effort!  Instead spend your time with friends and family, especially when they are visiting for the holidays!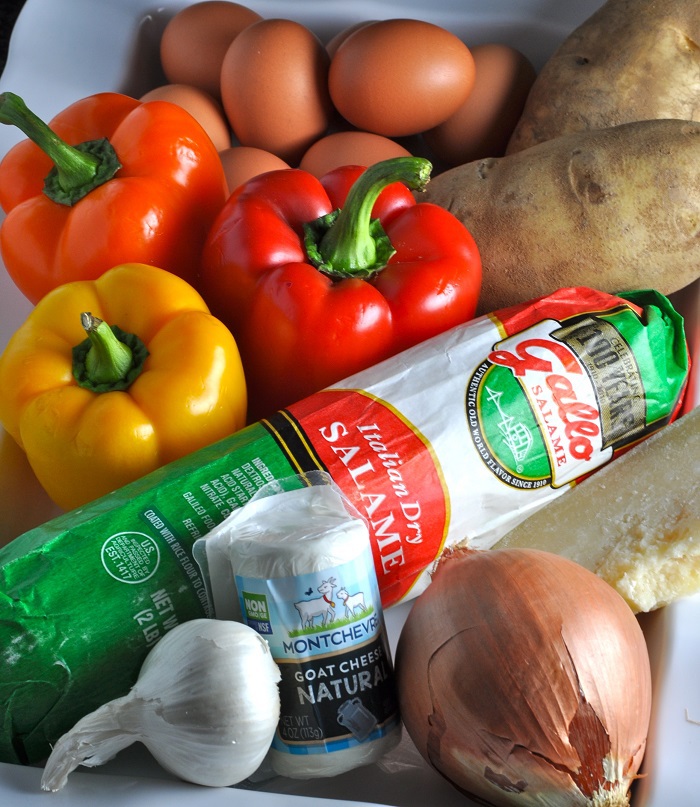 Breakfast Frittata Ingredients
4 ounces Gallo Salami, sliced and cubed
2 tablespoons olive oil
2 baking potatoes peeled and cut into cubes
1 small onion chopped
2 garlic cloves chopped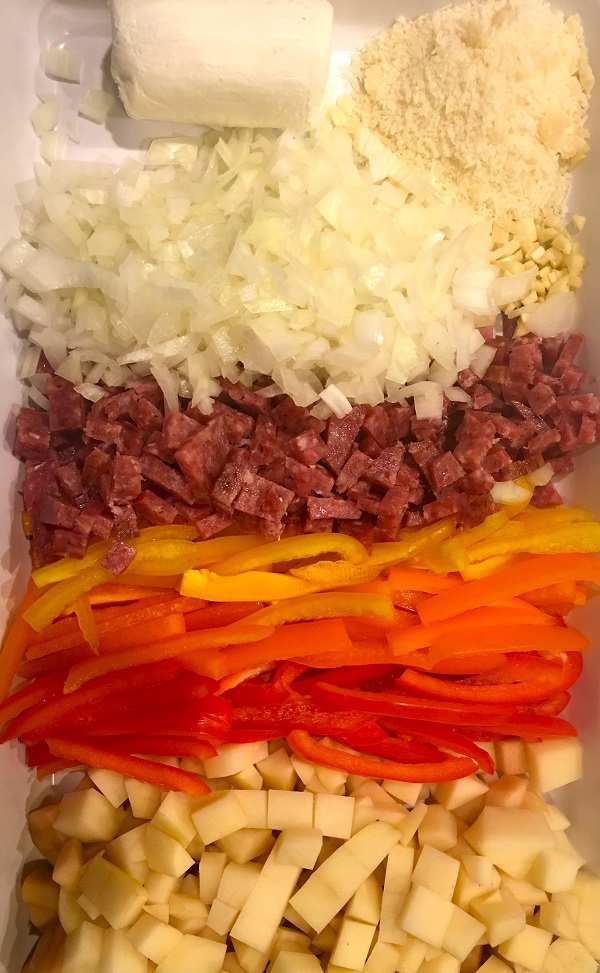 1 red bell pepper sliced into strips
1 yellow bell pepper sliced into strips
1 orange bell pepper sliced into strips
8 eggs
1/2 cup Parmesan cheese
4 ounces mild goat cheese

How to Make a Breakfast Frittata
This breakfast frittata recipe is made from leftovers from our Hot Italian Cheese Balls recipe!  Holiday hack heaven!
1. In a large frying pan or cast-iron pan, heat 2 tablespoons olive oil over medium heat. Add the chopped onion and garlic and saute until lightly browned.
2. Next add the cubed potatoes and saute until browned, about 5 minutes.
3. Add Salami to the potatoes and continue to brown.
4. In a large bowl, beat the eggs and add grated Parmesan and then add red, yellow and orange bell peppers.
5. Pour egg mixture into the pan and reduce heat to low. Add slices of mild goat cheese to the top. Cook until the eggs are almost set, about 5 to 6 minutes.
6. Heat the broiler and broil about 2 to 3 minutes until the eggs are set.
Cut and serve this delicious breakfast frittata.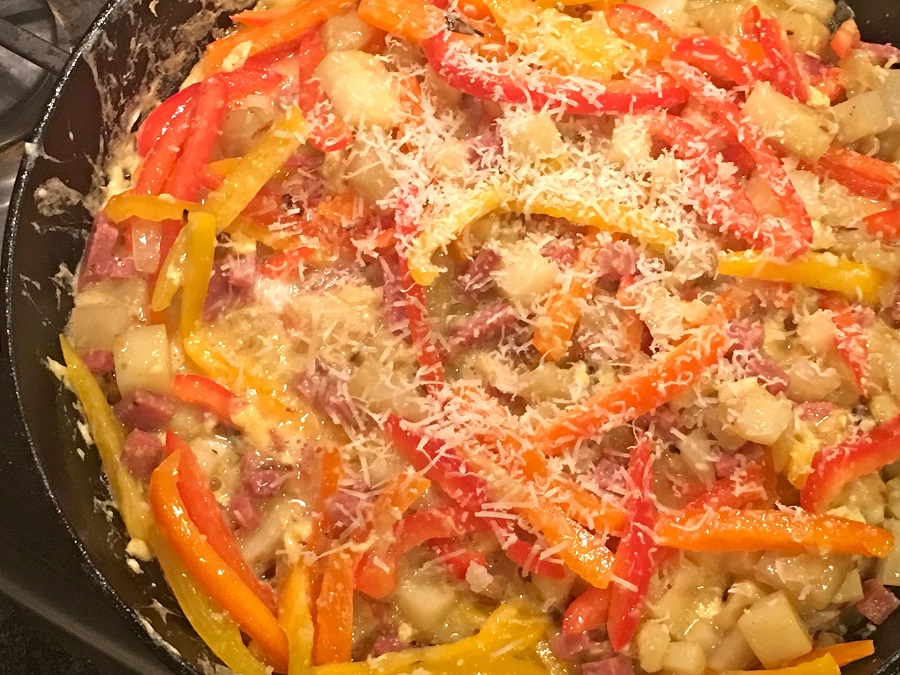 Make meal planning easy with these delicious recipes!
Save