This site contains affiliate links. Please read our Policies for information.
Some of the "best life" moments to me are those impromptu glasses of wine with friends, while watching the kids play outside. I have a bit of a reputation as a great hostess because I can somehow manage to throw something together on what appears to my guests as a "whim". I'm here to tell you, they are all fooled! It's the easiest guise in the world! There is planning involved in each and every impromptu get together I have, just not at the time they think. If you too want to be a great hostess, it's important to have your pantry and fridge stocked with some basics.
This versatile and easy bruschetta recipe always appears more impressive than it is! Plus, it makes for a fabulous appetizer and comes together in minutes.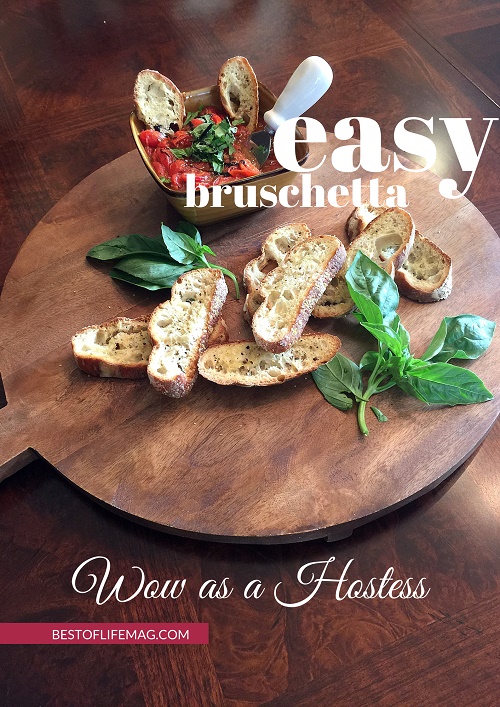 If your store has Red Fork Balsamic Cherry Tomato sauce, pick up several…they sell out quickly so I stock up. They can also be found at some Cost Plus World Markets. If not, don't fret, a good thick balsamic will do. I prefer the balsamic glazes, sold in most supermarkets these days.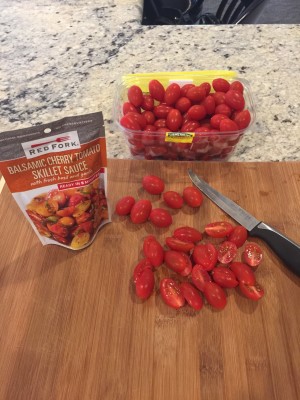 Ingredients for Easy Bruschetta:
Diced fresh cherry tomatoes
Red Fork Balsamic Cherry Tomato sauce or Balsamic, garlic & basil
Crostinis or your favorite cracker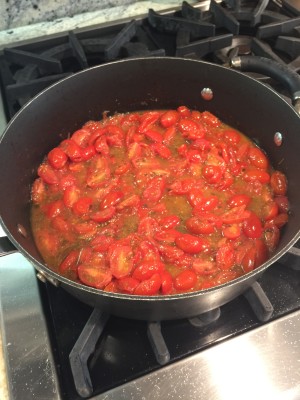 Directions:
Warm a pan with olive oil and add the diced tomatoes
Stir around a bit until tender
Add the sauce – if making your own, mix 1/4 cup balsamic, several slivered leaves of basil, and 1/2 tsp garlic.
Continue to stir on medium heat until tomatoes are soft.
That's it! Seriously, you're done!
Put in the sauce in a bowl and let guests top their own crostini or cracker to finish off this easy bruschetta recipe. Feel free to decorate with basil leaves if you're really up for compliments.
This recipe is perfect for entertaining guests at any time of year but is nice and light for outdoor entertaining.  If you are looking for another dish to serve, be sure to try our Basil Pesto Pasta Salad.
Hooray! You're a "great hostess"…but don't forget the wine!