This site contains affiliate links. Please read our Policies for information.
Chocolate chips AND sugar cookie goodness combined into one awesome cookie?  Yes, it's true and here's the recipe.
These chocolate chip sugar cookies are egg free and because they use brown sugar and real sugar, you end up with a crispy edge that is meant to be consumed with tea or coffee.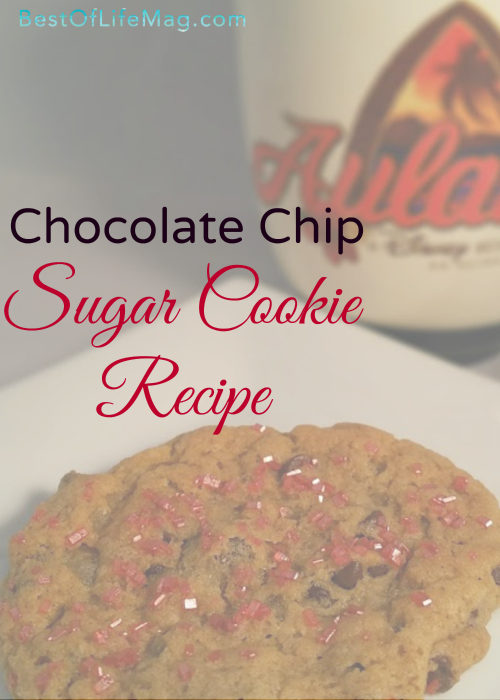 Chocolate Chip Sugar Cookie Recipe
Ingredients:
1/2 cup sugar
1/2 cup packed brown sugar
1/4 cup butter
1/4 cup shortening
1/2 cup vanilla yogurt
1/2 tsp vanilla
1 1/4 cup flour
1/2 tsp baking soda
1/2 tsp salt
2/3 cup miniature chocolate chips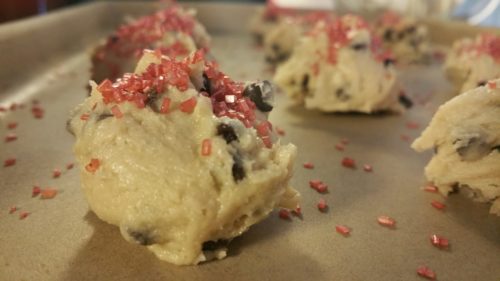 Directions for Chocolate Chip Sugar Cookie Goodness:
Combine sugar, brown sugar, butter and shortening and mix until blended.  Butter will still be in small balls if using a mixer.
Add yogurt, vanilla, and baking soda.  Mix.
Add flour, salt and chocolate chips.  Mix until all ingredients are well blended.
Line cookie sheet with parchment paper and drop teaspoons of batter onto cookie sheet.
Top thoroughly with sprinkles.
Bake at 375 degrees for 10-14 minutes.
Allow cookies to cool for 5 minutes before transferring to another rack.
Enjoy!  These chocolate chip sugar cookies are a tasty treat dipped in yogurt as well and would be perfect with these Frozen party food ideas!
You may also enjoy this eggless chocolate chip cookie recipe as well!