This site contains affiliate links. Please read our Policies for information.
When I first saw this drink, all I could think was, "Ya Mule! Ya! Ya!".  Those of you that grew up watching Bugs Bunny may remember that Yosemite Sam reference, those that don't, bug off – you're probably too young to drink this anyways (I jest – stay, read on! enjoy! (as long as you're over 21)).  Ok, back to the drink; usually I'm not a fan of sweet drinks, so I tend to stay away from Moscow Mules when I'm out enjoying spirits at a fine establishment.  A margarita or mojito is about as sweet as I go and even then I reduce the sweetener; I do this via a little known technique I call DTA – Double the Alcohol. But I'm a huge blood orange fan (Dexter opening scene anyone? anyone?!?) so I knew I had to try this when I first laid eyes on the recipe.  This blood orange moscow mule recipe not only tastes great but presents just as well and can be fun to make with friends when you're entertaining. I find that guests enjoy becoming part of the process of making a cocktail- whether it's slicing the oranges or smacking the mint.
There's something magical about the process of making a good blood orange Moscow Mule.
There has been a lot of debate over the importance of the copper mug that holds the Moscow Mule. On one side you have the people who say a Moscow Mule is about the cocktail itself, not the cup. On the other side, you have the people who say the mug helps the entire drinking experience. The question is, why would the mug be so important to the drink?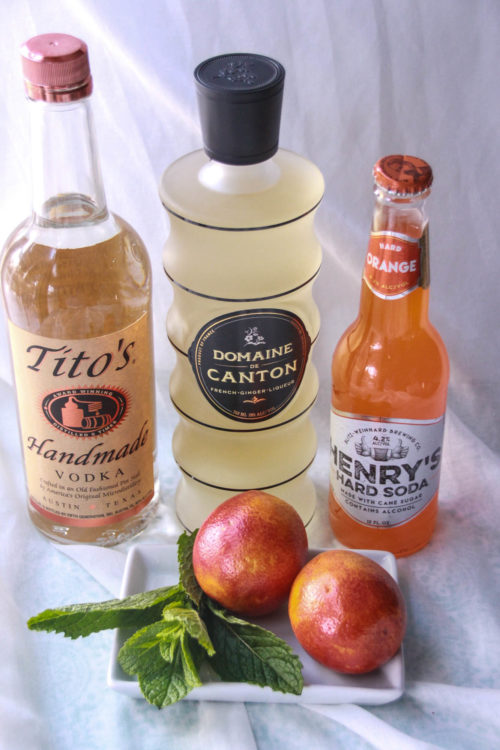 Blood Orange Moscow Mule Ingredients:
2 ounces Vodka
1.5 Henry's Hard Orange Soda
1 ounce Domaine de Canton Ginger Liqueur
Juice of blood orange
Sprig of fresh mint
Crushed ice
Blood orange wheel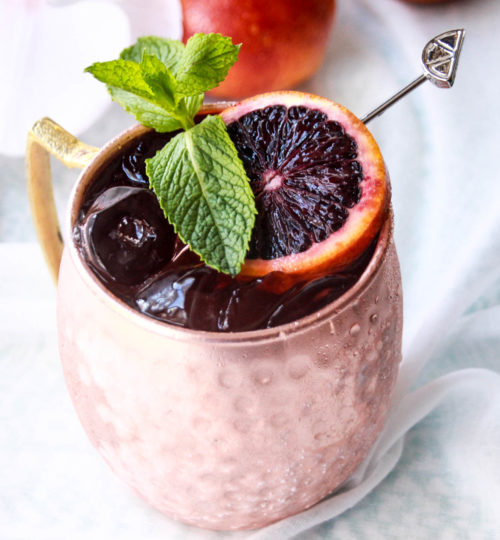 Blood Orange Moscow Mule Directions:
In a cocktail shaker add vodka, Henry's Hard Orange Soda, Domaine de Canton Ginger Liqueur, the juice of a blood orange (or two blood oranges if they are small), and top with ice.
Secure the lid on the cocktail shaker tightly and shake vigorously for 30 seconds.
Strain into a standard whiskey glass filled with crushed ice.
Garnish with a sprig of fresh mint and a slice of blood orange.
Serve.
Drink responsibly, and never drink and drive
Try making this Moscow Mule cocktail and make it in a glass and in a copper mug. Then you can decide which you like best. You'll notice the copper mug will absorb the cold from the ice, turning the mug into a sort of ice cube on its own. When the copper mug gets cold enough and touches your lips, it adds a new level of freshness to the cocktail.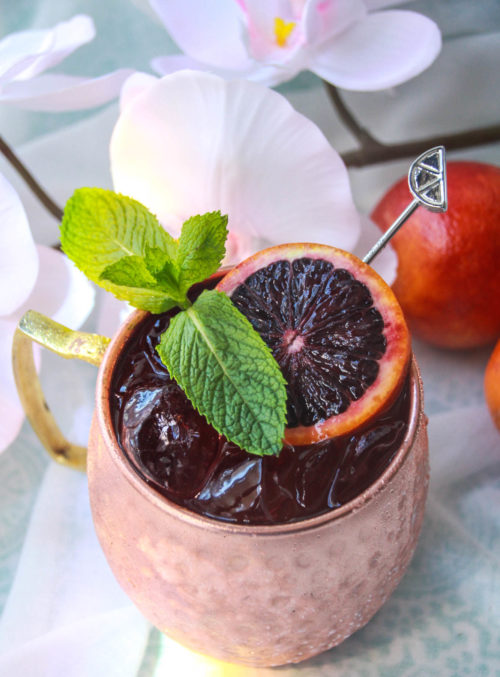 If you're more of a glass person, then you will see the different layers of this cocktail coming together to make an enjoyable cocktail. No matter which way you go, this cocktail is perfect for a summer outdoor party, or even a holiday event.