This site contains affiliate links. Please read our Policies for information.
***I am so proud of my brother for doing this.  Not only for his dedication and focus to build to a 170 mile ride, but because is doing this to support his son's passion and his local community.   I am honored to be a small part of this process and ask for your support in helping him reach his goal of raising $2500. I am starting this off with our own donation of $100.  Just think…25 of us.  $100 each. And he has reached his goal.  Who's with me?**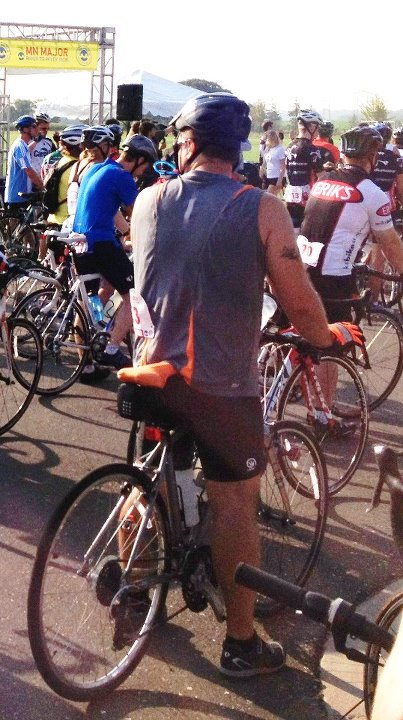 "Two years ago when I got back into cycling I did it for my health.  I enjoyed riding, it lowered my cholesterol, my weight, and made me stronger.  The mental discipline to ride can be tough, and very rewarding.  I achieved my personal goal to ride 1,000 miles in 2011, I made it by 1 mile!  One.
This year I increased my goal to 1,500, and wanted to find new ways to challenge myself.  In addition to riding my first organized event in 12 years I also decided to ride from New Richmond, WI to Wausau, WI, a distance of 170 miles.  My trip is planned for the third weekend of September.
But there's more, I'm also a husband and father to two wonderful kids.  Our daughter is a dancer, she loves it.  I think.  Our son is a soccer player.  He's awesome.  In his own mind.  To be fair, he is good.
This is where this year's lesson kicks in:  I want to do more for the kids in our city, specifically our youth soccer club.
Our U9-11 teams practiced and played on local fields with grass so long the ball didn't roll.  Lines were painted only a handful of times in the 3 month season, they were so light the kids didn't know where to kick in order to keep the ball in play.  Our High School fields are better, but they're built on old farmland and are very bumpy and dry.  We hosted a tournament in June, the dirt kicked up by the wind coupled with balls that bounced in all directions made for an interesting, and embarrassing, afternoon.
I'm dedicating my ride to the New Richmond Youth Soccer program.  I would love your support to help me achieve my goal of $2,500.  When my ride is done, and I can feel my legs again, I'll present a check to the NR Soccer club and watch those funds be used to improve the fields, and perhaps a few players directly.
I'm a newbie at fundraising, so I've asked the help of my sister, Amy.  She's a successful mom blogger at
Mommy-Mentor.com
, she's offered to host the donation link on her page.  Any and everything raised will be given to the Soccer club.
Thank you for your support!"