This site contains affiliate links. Please read our Policies for information.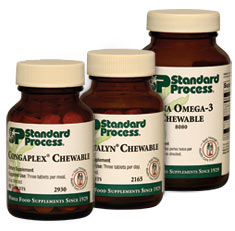 We awoke today to slowly discover that Princess A is indeed sick with a cold of some sort. You know how it goes? You see the first sign on sickness and pray it is teething & then when it continues hope for allergies. If it is snowing, all hope is gone! If there are signs of life outside, you wait a bit longer still praying for allergies…slowly….realizing…that….yes…your…child…is….sick. Denial is fun while it lasts, right?
Poor Princess A is SO congested and draining constantly. However, it has been a long time, relatively speaking, since she has gotten sick. I think November was our last cold so that is pretty great, especially considering decongestants have been removed from the shelves – LOL!
I called my chiropractor this morning to get the updated dosage for Standard Process Congaplex, which is made by Standard Process, Inc. (You can see my other posts about Standard Process products here. Simply put, I love the company, what they stand for, and their products.) She can have 3 capsules a day at the age of 16 months. We were able to get 2 into applesauce and yogurt today. I am going to add the dust to her milk tomorrow in hopes to make it a bit easier since she does not want to eat.
So – enough about this household. I was thinking it would be fun and helpful for other parents if I started a post where we can all comment and help each other figure out what to do when our child is sick. If you use Congaplex, we can talk about how that is going, answer questions for those of you that are not familiar with Congaplex (known as Conga in our family).
At the bare minimum, we can at least feel better knowing that others are in the same boat. When our kids are sick, it is simply no fun! (PLEASE NOTE: I am not a health care professional. Posts are not intended to replace the consultation of your doctor. This is simply a place to share what we are doing and support each other in the process. Standard Process supplements are sold through health care professionals. Please consult your HCP to determine appropriate products and supplement dosage.)
So, if you have sick kids and want to share ideas, get some input, or talk about Congaplex, post a comment or question to me or someone else who has made a comment.
**Update: 6/21/08: Princess A started with a runny nose so we dove right into Congaplex. We are mixing it in her milk and it does not phase her in the least. I also have a sore throat and some congestion so am taking 3 every few hours. Ugh – I hate colds!